TEDxGreensboro 2019
Keep It Simple
TriadStage, April 4, 2019
Two Days of TEDxGreensboro Events
Wednesday, April 3: Pre-event Reception (5:30 – 7:30): meet other participants and the speakers!
Thursday, April 4: TEDxGreensboro (8:00 – 5:00)
BUY TICKETS
BE A SPONSOR
TEDxGreensboro Schedule – April 4 @TriadStage
| Time | Activity |
| --- | --- |
| 8:00-8:30am | Registration |
| 8:30 | Welcome |
| 8:45-10:30 | Session 1 Speakers & Entertainment |
| 10:30-11:00 | Break |
| 11:00-12:30 | Session 2 Speakers & Entertainment |
| 12:30-1:30 | Lunch |
| 1:30-3:00 | Session 3 Speakers & Entertainment |
| 3:00-3:30 | Break |
| 3:30-4:45 | Session 4 Speakers & Entertainment |
| 4:45-5:00 | Closing and Wrap-up |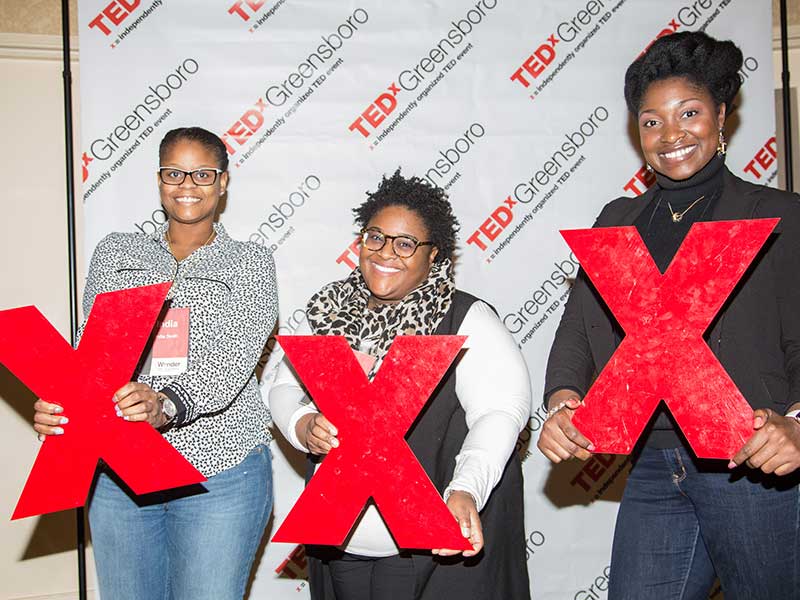 Holiday tickets are the lowest-priced tickets of this year and are available until January 2, 2019. Group ticket pricing is available.
TEDxGreensboro 2019 Speakers and Entertainers
Speakers and Entertainers are introduced in early January, 2019. Be sure you're on the mailing list to get first notifications!
TEDxGreensboro 2019 Sponsors
Would you like to sponsor TEDxGreensboro's 2019 year of programs?
Prior TEDxGreensboro Events
TEDxGreensboro Core Sponsors
TEDxGreensboro 2019 Sponsors